Image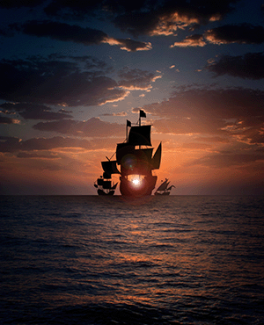 Christopher Columbus was neither an invader nor a racist. He was an explorer determined to prove the earth was round and that Europeans could sail to the west and open up a new trade route to Asia. He was from Genoa, which at the time of his sailing was an independent City State.
The Genoese people had diverse roots due to the numerous invasions of that area over the previous centuries. As a Maritime Republic they also had connections to many nations. As a result Columbus spent ten years attempting to secure support for his ocean exploration from several kingdoms. Ultimately Columbus' convinced the Spanish crown to fund his adventure.
His arrival in the Caribbean Islands was unexpected, but it opened up a new world of two large continents. This ultimately led to an opportunity for immigrants of all nationalities to populate what became the new Americas.

Although he never entered North America, Columbus has been condemned by the indigenous people and their sympathizers who seem to ignore the fact that he actually adopted a child of the Tiano Tribe. The attack on Columbus is based on distortions of his person and activities that can be traced to two primary sources. 
The first of these is a book by Howard Zinn, "A People's History of the United States". Besides Columbus, Zinn also condemns Abraham Lincoln, America and its Allies in World War II, and other American actions. This book has been believed by many people and has infiltrated our schools, unjustly influencing our young people.
A recent book by Mary Grabar, "Debunking Howard Zinn", exposes the distortions of Zinn's book. Ms. Grabar also has a 5 minute You-Tube video on this subject: https://www.prageru.com/video/howard-zinn-and-the-book-that-poisoned-a-generation.
A more extensive and honest review of the Columbus history can be found in the following link: https://vimeo.com/791240334/b41bf14e36.
The second attack on Columbus was by Victoria Vasquez from the Take Down Columbus group who are determined to remove statues and other positive presentations of Columbus. Below is a letter from the Columbus Heritage Foundation presenting the response by Robert Petrone to Vasquez's misinformation.
Petrone v. Vasquez: Mano a Mano con ii Nemico
This article was originally published by the Columbus Heritage Coalition. Friends of Italian Americans is republishing it with their permission.
Dear friends,
In the constellation of young stars who are stepping up for the true legacy of Christopher Columbus, Robert Petrone is exceptional. An accomplished attorney, author, researcher, and communicator, Robert has focused his considerable energy and many skills on disrupting the lies of those seeking to whitewash the great navigator. Rob excels at presenting the volumes of evidence with context, clarity, and even humor. The Columbus Heritage Coalition recently invited Rob to refute charges against Columbus by Victoria Vasquez, a spokesperson for the retrograde Take Down Columbus group. I'm pleased to present Rob's rebuttal below. History teaches that truth will only prevail when falsehoods are challenged and disrupted.
Rob, we extend our deep appreciation and salute your service.
What's your opinion? Send me a note here.
Angelo Vivolo   
President   
Columbus Heritage Coalition
Victoria Vasquez states:
"Columbus couldn't have been Italian because Italy wasn't formed as a nation during his lifetime."
Robert Petrone responds:
The word Italia, referring collectively to the various kingdoms of that peninsula, far pre-dated the formation of the nation of Italia. Columbus and all the people of the Italian peninsula since its settlement are Italians. Just like all the people of the Americas or America, even before the United States was created as a nation. He was Genoan. We know that. Genoa is now part of Italy. So, Columbus was Italian. His native language was Genoan, which is a dialect of Italian.
Victoria Vasquez states:
Columbus "did not reveal that the earth was round."
Robert Petrone responds:
No one says he did. Most reputable scholars theorized that the world was round at the time Columbus set sail for the Americas, and Columbus was an early adopter of that theory. Had he reached mainland China, he certainly would have proved it beyond question.  And since most of the world thought the Americas were the East Indies until after Columbus died, he did, for all intents and purposes, eliminate any doubt in the minds of any former skeptics about the world's roundness. 
Victoria Vasquez states:
Columbus "did not go into the New World with a curious lens but [for] a gold hunt and [to] claim anything he could for material gain."
Robert Petrone responds:
"That's just absolutely false. Christopher Columbus spent years of his life trying to find funding to support his scientific experiment to find a new, all-water route to Asia.  He had no other motive than that. Finding gold was never his motive. The Crown of Spain, however, demanded returns on their investment, and they pushed him to find gold. He never stole it or took it by force.  He only ever bartered for it and insisted that the settlers engage in fair trade with the tribal peoples.
Victoria Vasquez states:
"Experts told Columbus his calculations were all wrong and that the voyage would take longer than he expected" and that "the naysayers were right."
Robert Petrone responds:
This is entirely wrong. The people who counseled the Crown of Spain to reject Columbus's proposal were not "experts" but court counselors, who felt that the Spanish Treasury needed to be spent on the Reconquista, rather than this unlikely experiment. They didn't say Columbus's "calculations were all wrong" or "that the voyage would take longer than expected" because they weren't navigators or scientists.  They were just skeptics, and they were NOT "right."  In fact, Columbus expected that before he hit the mainland of "the Indies" (what the medieval world called India and the Far East), he would hit islands populated by Asiatic colonists, and that's exactly what happened. What no one expected — not even all the ancient scholars whose works Columbus had spent a lifetime studying — was that two of these islands would be the size of continents (I'm referring to North and South America).
Victoria Vasquez states:
"Columbus was rewarding his lieutenants with native women to rape." While she says this, she shows a graphic reading, "A hundred castellanoes are as easily obtained for a woman as for a farm, and it is very general, and there are plenty of dealers who go about looking for girls; those from nine to ten are now in demand."  She calls this "a letter from Columbus to a friend."
Robert Petrone responds:
Again, Vasquez is wrong. Columbus didn't write this letter to "a friend." He wrote this to the Crown of Spain to complain about the Spaniards and Portuguese who had come in his wake and begun enslaving the Tainos natives. He was demanding the Spanish Crown do something about it and put a stop to it. Columbus certainly did whatever he could to thwart the slaving efforts of the Spanish settlers and Portuguese slave-traders.
Victoria Vasquez states:
"Columbus did not find the gold he expected, and his greed turned to selling Tainos to fund his voyages." 
Robert Petrone responds:
That is false. He found gold. He brought it back to the Crown. The Crown always demanded more.  But he never "turned to selling Tainos." The record demonstrates that he took a stand against the Spanish hidalgos and Portuguese slavers who did try to enslave the Tainos. Columbus was the Tainos' most vociferous advocate and protector.  He never sold a single slave.
Victoria Vasquez states:
"Columbus's actions enraged the Spanish monarchs." Vasquez attributes the following quote to Queen Isabella: "Who is this Columbus who dares to give out my vassals as slaves."
Robert Petrone responds:
Tellingly, she does not cite where this quote comes from. That's because it's bunk. The Queen knew exactly who Columbus was.  In fact, she was his biggest supporter.  King Ferdinand was at worst indifferent to Columbus. Columbus never "enraged" the monarchs and never "g[a]ve out [the Crown's] vassals as slaves." The primary historical sources flatly contradict all of this nonsense that Vasquez is saying.
Victoria Vasquez states:
Friar Bartolomé de las Casas, author of Historia de las Indias, which is the main primary source from which our information comes, wrote negatively about Columbus' leadership. She quotes the passage from de las Casas, attributing atrocities to "Columbus's men."
Robert Petrone responds:
De las Casas wrote exceedingly favorably about Columbus. De las Casas saw Columbus's governorship of the West Indies first hand and makes in clear in his Historia that Columbus was beyond reproach.  De las Casas was writing about the atrocities of Francisco de Bobadilla, who ousted Columbus from office by bringing false claims against him which Columbus defeated in Court. Not only did the Crown find the claims patently false and dismiss them as "calumny," they then put their money where their mouth was and funded his Fourth Voyage.  Again, tellingly, Vasquez fails to cite where this passage she recites comes from.  That's so you can't tell that she's conflating Christopher Columbus with Francisco de Bobadilla.  It wasn't "Columbus's men" that did this.  It was Bobadilla and his men.
Victoria Vasquez states:
"..for these atrocities that are well documented" a "royal commissioner … brought Columbus back to Spain in chains."
Robert Petrone responds:
No. Columbus wrote to the Crown, asking them to send someone the recalcitrant hidalgos would listen to, because they wouldn't listen to him, being that he was a low-born foreigner. So, the Crown sent Bobadilla. But they told Bobadilla that if he found any wrongdoing by Columbus, Bobadilla could take the lifetime hereditary title of Viceroy and oust Columbus.  Bobadilla didn't even conduct an investigation.  Instead, he just made up false claims to get the hereditary title himself.  Bobadilla sent Columbus back to Spain in chains and stayed behind to commit unparalleled atrocities in Columbus's absence. Bobadilla knew that when Columbus got back to Spain, the jig would be up, and told the hidalgos, "take as many advantages as you can because we don't know how long this will last" (History of the Indies, Book II, page 79).  And that's exactly what happened:  Columbus got back to Spain, gave his evidence, and defeated the slander.  The Crown removed his chains and apologized profusely, and then funded his Fourth Voyage.  So, again, Vasquez is disseminating false information.
Victoria Vasquez states:
Columbus was "stripped of his governorship."
Robert Petrone responds:
He was not stripped of his governorship. He didn't want to govern anymore.  He wrote to the Crown: "I wanted to escape from governing these dissolute people…full of vice and malice" and "begged Their Highnesses…to send someone at my expense to administer justice" (Letter of Christopher Columbus to Doña Juana de Torres, dated October 1500).
Victoria Vasquez states:
Columbus "did not represent any of the values we usually align with Christopher Columbus."
Robert Petrone responds:
Even by today's impossible utopian standards, Columbus was without a doubt the greatest hero of the Fifteenth and Sixteenth Centuries. He was a capitalist in the age of Empires, and what he did began the downfall of imperialism.  He was a scientist in the age of superstition. He was a civil rights activist in the age of oppression. And he was a pacifist in the age of war-mongering. Thus, Columbus was an icon and a paragon.
For more of Robert Petrone, visit: https://video.ibm.com/recorded/131509285